about Ahmed El Shennawy
Date of birth: 5th April.
Zodic: Aries 
favorite song: bent al soultan (adwia)
Graduated from mass communication faculty of science and technology. 
Department of publishing and advertising .
Master degree in mass and communication from cairo university, Cairo.
Public relations and media manager in Nile Radio Company. 
 I m presenting my radio program "Shaaby Alhabeeb"(My beloved commoners) since 2013 in nagham FM.
Believe in :The best one is the helpful one..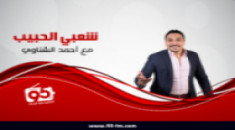 Sha3bey al habib
Presented Show
Time of broadcast: Weekdays from 8-9 pm(Monday –Wednesday) A social entertainment program that host artists..